Book a Room
This wonderful relaxing North Cyprus Holiday Complex has fully furnished 6 Mini villas, 12 villa rooms, two 2 Bedroom Double Villas, and 7 studio apartment rooms where you can relax on your own balcony looking out to the sea, mountains and the pool area. All rooms are equipped with satellite TV, Wi-Fi Access, tea/coffee making facilities, refrigerator and a water cooler.
For the convenience of your stay you can choose Bed & Breakfast (B&B) or Half Board (HB) booking options from our four main type of accommodation options:
Mini Villa (6 terraced bungalows)
Villa Room (12 single ground floor or first floor rooms)
Double Room Villa (2 two bedroom villas)
Studio Apartments (7 hotel type rooms above the main reception building)
Every type of accommodation offers the following standard facilities:
Split air conditioning (heat / cool)
Twin / double bed option
Refrigerator
Tea / coffee making facilities
TV (local channels only)
Direct telephone
Linen and bath towels changed every 4th day
Rooms checked by maids every day
24 hour WI-FI connection
Hairdryer, iron, ironing board available on request
Washing machine available for use of guests
Hot & Cold water dispenser
Children aged 5 or less stay FREE in a room with paying adults
*All room types are non-smoking
*Pets are not allowed
Mini Villas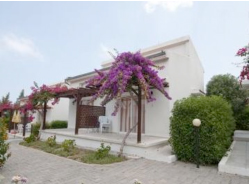 We have six Mini Villas each with a galleried bedroom. These Villas are set in our beautifully kept garden and enjoy outstanding mountain and pool views. Each has its own large sun terrace within a tranquil environment. The Mini Villas sleep two adults and also have the option of a sofa bed in a spacious lounge area - ideal for families with young children.
(The Mini Villas are all split level and are not suitable for people with walking difficulties due to the staircase leading to the galleried bedroom)
Room price from 60 Euro per day Bed&Breakfast
Villa Rooms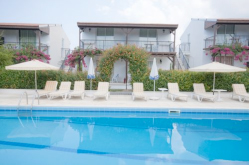 We have twelve Villa Rooms which all have their own large sun terrace / balcony overlooking the pool with spectacular mountain and sea views. Each room can accommodate two adults.
(The Villa Rooms are all on one level making them an ideal accommodation choice for people with walking disability)
Ground floor and first floor Room price 50 Euro per day 1 or 2 persons Bed and Breakfast
Double Room Villa (2 two bedroom villas)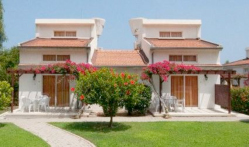 These two bedroom villas all overlooking to the mountains, picturesque garden and the pool area are an ideal choice for large families or group of friends With one double bedroom downstairs and two single beds on gallery level first floor these double room villas sleep 4 person. There is also a sofa bed in a very spacious lounge area should that be needed for a child.
Room price from 80 Euro per day Bed and breakfast
Studio Apartments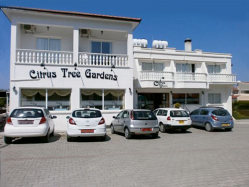 There are seven Studio Apartments located above the main reception area. Each has its own rear balcony with mountain views while the common front balcony overlooks the pool offering a full sea view. All en-suite.
Room price 45 Euro per day Bed and Breakfast